What to Look for When Test Driving a Car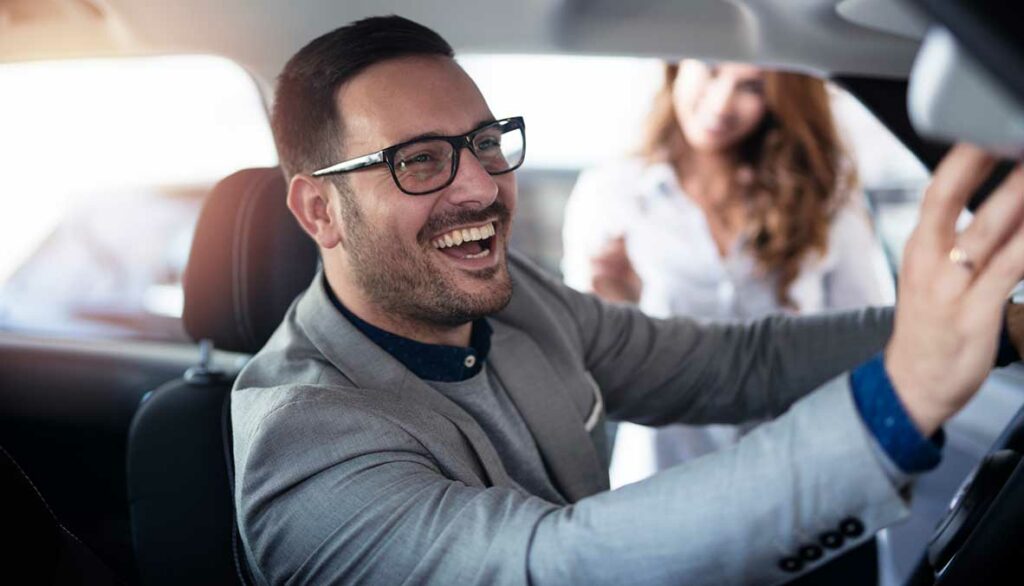 Test driving is one of the most important parts of buying a new car. While researching online is a great first step, you won't know how you truly feel about a prospective car until you visit the dealership. If your scheduled test drive window is short and you're not sure what to prioritize, having a mental or physical list can help you stay focused. Read on to learn everything you should look for during a test drive and how to make the most of your first ride.
How to Make the Most of Your Test Drive
We recommend doing a little research beforehand so you can focus on what really matters—the feel of the car.
Before the Test Drive
Do your research. Read some consumer and expert reviews on the cars you're interested in and compile a list of the ones you want to try.
Save time with an appointment. Make an appointment ahead of time so the vehicles you want to test drive are ready when you arrive. Car dealerships have limited space and can't always display their entire inventory, so some vehicles are left on distant satellite or overflow lots. Calling ahead gives the dealer plenty of time to retrieve the car and drive it from the overflow lot or showroom if necessary. In addition, trying each car in succession is the best way to get a fair comparison, so try to fit all your test drives into one day.
Separate the test drive from your purchase date. Experts recommend taking a test drive and finalizing your purchase on different days to give yourself time to consider your options.
Ask a buddy to go with you. If you're easily swayed by salespeople, it helps to bring a friend or relative to keep you accountable.
During the Test Drive
Pay attention to these points during the big day so you don't neglect any aspect of the car.
Exterior: Take a walk around the car to make sure nothing is damaged and there aren't any scratches, rust, or missing pieces. Even new cars can be damaged during shipping or previous test drives.
Spaciousness: If you usually keep a car seat or bike in your vehicle, bring them to the test drive to see if they fit in your prospective car.
Measurements: If you have a small garage, driveway, or parking space for your car, measure the space and see if your prospective vehicle has the right proportions.
Entrance and exit: Make sure you can enter and exit the car without hitting your head or stooping.
Comfort: Comfort really is key! See how you fit in the driver's seat and adjust the steering wheel, pedals, and mirrors as necessary.
Technology: Familiarize yourself with the technology and gadgets in the car. Try the display and see if it's easy to navigate. Are Wi-Fi, Bluetooth®, and voice activation included?
Visibility: Turn your head in every direction to see if there are any blind spots or obstructions in your view.
Steering and handling: See how the car handles turns during your test drive. Switch lanes a few times to see how the steering responds to greater speed.
Braking and suspension: Monitor the car when you brake to see if it slows down smoothly and soundlessly. Experts recommend taking your car for a drive on rough and smooth roads to get a feeling for the suspension system.
Acceleration: Test drive your car at different speeds (safely) to see how it accelerates.
After the Test Drive
After you've completed the test drive, take a few days before making the final purchase to weigh your options. This is a good time to review your car's maintenance schedule and warranty to see what parts and services are covered. If you have some concerns about the car, ask for a vehicle history report or even bring in a mechanic to take a look.
Don't forget to secure insurance before you take your new vehicle off the lot. Here at The General, we believe that everyone, including high-risk drivers, deserves reliable insurance at an affordable price. Visit our quotes page to get quoted in under two minutes of less. You can learn more about safe driving and insurance by visiting our blog. 
The General Insurance. "What to Look for When Test Driving a Car." The General Insurance Blog, 9 May 2022, https://www.thegeneral.com/blog/what-to-look-for-when-test-driving-a-car/.